hercules actor pages
Click on the thumbnails below to go to the respective actor pages, where you'll find lots of photos, biographical information, filmographies, and links:
Bodybuilding legend Steve Reeves starred in such sword and sandal films as Hercules, Hercules Unchained, and The White Warrior.

Former Tarzan Gordon Scott moved on to peplums in the early 1960s, starring in Hercules Vs. the Molloch and Samson and the Seven Miracles of the World.

Mr. Universe Reg Park appeared in some of the best sword and sandal flicks, including Hercules in the Haunted World and Hercules and the Captive Women.

Bodybuilder Lou Degni was billed as Mark Forest in such films as Goliath and the Dragon and Hercules Against the Sons of the Sun.

Italian actor Kirk Morris starred in such films as Colossus and the Headhunters and The Witch's Curse in the early 1960s.

Actor Dan Vadis appeared such adventures as Spartacus and the Ten Gladiators before moving on to westerns in the 1970s.

Bodybuilder Dave Draper appeared exclusively in "A" films such as Don't Make Waves but once hosted a sword and sandal TV show as David the Gladiator.

While Gordon Mitchell acted in more than 200 films during his career, he's best known for his sword and sandal films such as The Giant of Metropolis.

Ed Fury was a 1950s physique model and actor who moved on to sword and sandal flicks in the 1960s, starring in Colossus and the Amazon Queen, among other films.

Brad Harris starred as Samson, Goliath, and Hercules in early 1960s peplums and moved on to spy thrillers with Tony Kendall.

Mission: Impossible star Peter Lupus acted in beach movies and sword and sandal films using the name Rock Stevens before making it big on the small screen.

Once the husband of Jayne Mansfield, Mickey Hargitay starred in numerous Italian movies, including Bloody Pit of Horror and Hercules Vs. the Hydra.

Italian actor Alan Steel made his mark in Italian sword and sandal films as the star of Hercules Against the Moon Men.

Best known for his role in The Three Stooges Meet Hercules, Samson Burke also acted in several peplums in the 1960s.

Mr. America 1963 Reg Lewis
got his start in the Mae West Revue and went on to act in several films such as Fire Monsters Against the Son of Hercules.

Lou Ferrigno's lengthy career as an actor has yielded two Hercules films, a turn as Sinbad, and his TV series The Incredible Hulk.

'A' list star Arnold Schwarzenegger got his start in the low-budget 1970 film Hercules in New York.

Famed bodybuilder Serge Nubret made a few sword and sandal films in the 1960s.

Richard Harrison starred in numerous sword and sandal films in the 1960s. He also acted in a number of spy thrillers and spaghetti westerns during his lengthy career.

British actor and stuntman Joe Robinson acted in a number of films in the 1950s and 1960s, including Taur the Mighty.
other hercules heroes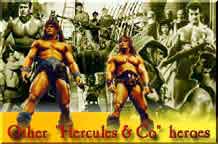 Dont' forget to check out the
Other Hercules Heroes
page, featuring Peter and David Paul, Paul Wynter, Richard Lloyd, and Pierre Brice.
---
sword and sandal film now showing
Watch Rod Flash,
Gordon Mitchell
, Roger Browne, and Bella Cortez in the 1962 film
Vulcan, Son of Jupiter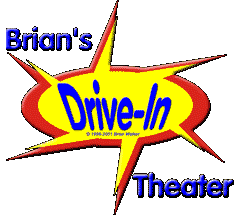 Click on the logo to go back to Brian's Drive-In Theater
This page premiered February 1, 1998.
Copyright and Disclaimer Information