biography
Born in Brooklyn, New York, on November 1, 1951, Lou Ferrigno began bodybuilding while he was a teenager in order to build self-esteem. At the age of two, Ferrigno lost about 80 percent of his hearing due to an ear infection, and as he matured, bodybuilding became a way for Ferrigno to compensate for his loss. He did very well, for in 1970 he won the title Mr. Teenage America and went on to become Mr. America in 1973. In addition, he won the Mr. Universe competition in 1973 and 1974. His 6'5" frame and 275-pound weight undoubtedly helped him win the title.
Pumping Iron
(1977; with
Arnold Schwarzenegger
), which documented the 1975 Mr. Olympia and Mr. Universe contests. His first acting role came during the same year, when he was cast in the CBS science fiction TV movie
The Incredible Hulk
(1977; with Bill Bixby and Susan Sullivan). After two more made-for-TV films based on the character,
The Incredible Hulk
went to series in the fall of 1978. Ferrigno costarred with Bill Bixby in recreating the comic book superhero as David Banner's (Bill Bixby) alter-ego. The smash-hit show was very popular among children and teenagers of the day.
After
The Incredible Hulk
was canceled in 1982, Lou Ferrigno headed to Italy to lens
Hercules
(1983; with
Brad Harris
and Sybil Danning) in an attempt to revive the peplum genre. While fans enjoyed Ferrigno's portrayal of Hercules, some critics didn't. When the nominations for the Fourth Annual Razzie Awards announced in 1983, Ferrigno's
Hercules
was nominated for five of the eleven categories, including worst picture, worst actor (Ferrigno), and worst actress (Sybil Danning). Nevertheless, the movie proved to be popular enough to spawn a sequel,
Hercules II
. And today, nearly thirty years after Ferrigno's
Hercules
, the film has achieved cult status.
the films of lou ferrigno
The Incredible Hulk (1978-1982 CBS TV Series)
Trauma Center (1983 ABC TV Series)
Hercules (1983)
The Fall Guy (1981-1986 ABC TV Series)
Hercules II (1985)
Sinbad of the Seven Seas (1989)
Cage (1989)
lou ferrigno today
Since his 1977 acting debut, Lou Ferrigno has continued working in films and television. In addition to being an actor and highly sought trainer, Ferrigno is also a Los Angeles County Reserve Deputy Sheriff. He has been married to wife Carla for over 30 years, and the couple has three children. He made headlines in June 2009 as Michael Jackson's trainer, when Jackson died. Ferringo asserted that Jackson's huge debt contributed to his decline. And in February 2012, Ferrigno was a contestant on NBC's reality series
Celebrity Apprentice
.
lou ferrigno dvds available from amazon.com
lou ferrigno books available
filmography
FILM
Avengers Grimm (2015) with Casper Van Dien
The Scorpion King 4: Quest for Power (2015) with Barry Bostwick, Rutger Hauer, and Michael Biehn
Moms' Night Out (2014) with Sean Astin, Patricia Heaton, and Trace Adkins
Soupernatural (2010) with Kathy Garver, Dee Wallace, Pamela Sue Martin, Butch Patrick, Pat Priest, Mark Goddard, Paul Petersen, and Ronnie Schell
The Hulk (2003) with Eric Bana, Sam Elliot, and Nick Nolte
From Heaven to Hell (2002) with Burt Ward and Adam West
Ping! (2000) with Clint Howard, Shirley Jones, and Judge Reinhold
The Godson (1998) with Rodney Dangerfield
The Misery Brothers (1995) with "Rowdy" Roddy Piper
Cage II (1994) with Reb Brown
Frogtown II (1993) with Don Stroud
And God Spoke (1993)
The Naked Truth (1992) with Yvonne De Carlo, Herb Edelman, Billy Barty, Alex Cord, Erik Estrada, Zsa Zsa Gabor, and Dick Gautier
Extralarge: Jo-Jo (1991) with Philip Michael Thomas and Andrew Stevens
Hangfire (1991) with Lyle Alzado, Peter Lupus, and Fred Schneider
The Death of the Incredible Hulk (1990) with Bill Bixby
Liberty & Bash (1990) with Miles O'Keeffe
The Trial of the Incredible Hulk (1989) with Bill Bixby
All's Fair (1989) with George Segal
Cage (1989) with Reb Brown
Sinbad of the Seven Seas (1989)
The Incredible Hulk Returns (1988) with Bill Bixby
Desert Warrior (1988)
Hercules II (1985) with Raf Baldassarre
Hercules (1983) with Sybil Danning and Brad Harris
The Seven Magnificent Gladiators (1983) with Sybil Danning, Brad Harris, and Dan Vadis
Bride of the Incredible Hulk (1979) with Bill Bixby and Mariette Hartley
The Return of the Incredible Hulk (1977) with Bill Bixby, William Daniels, and Gerald McRaney
The Incredible Hulk (1977) with Bill Bixby, Susan Sullivan, and Charlie Siebert
Pumping Iron (1977) with Arnold Schwarzenegger, Serge Nubret, Roger Callard, Joe Weider, Mike Katz, and Ken Waller

TELEVISION SERIES
The King of Queens, 1998-2007 CBS television series. Ferrigno portrayed himself from 2000 to 2007
The Incredible Hulk, 1996-1997 UPN animated television series
Trauma Center, 1983 ABC television series. Ferrigno portrayed John Six
The Incredible Hulk, 1978-1982 CBS television series. Ferrigno portrayed the title character

TELEVISION GUEST APPEARANCES
Chuck, episode Chuck Versus the Suitcase, originally aired September 27, 2010
Reno 911!, episode Department Investigation: Part 2, originally aired September 22, 2004
My Wife and Kids, episode Illegal Smile, originally aired February 18, 2004
Black Scorpion, episode Virtual Vice, originally aired April 14, 2001
Conan, episode The Three Virgins, originally aired November 7, 1997
Night Court, episode Battling Bailiff, originally aired February 7, 1985
The Fall Guy, episode The Winner, originally aired December 19, 1984
The New Mike Hammer, episode Catfight, originally aired October 20, 1984
Matt Houston, episode Blood Ties, originally aired March 2, 1984
The Fall Guy, episode Trauma, originally aired September 28, 1983
The Fall Guy, episode License to Kill: Part 1, originally aired January 13, 1982
Billy, episode Fathers and Sons, originally aired March 31, 1979
lou ferrigno links
Lou Ferrigno: Official Site
This is the official Lou Ferrigno site; visit it to find information, photos, a complete filmography, and more regarding Lou Ferrigno. Books and photographs are available through the site, or arrange with the Hulk himself for a personal fitness consultation.
Lou Ferrigno: The Ultimate Hercules
If you're a Lou Ferrigno fan, Boris Bugaev's site is the last word for information, lots of photos, and anything else you'd like to know about Lou Ferrigno and both of his Hercules movies. It's shockingly complete and detailed, with great photos.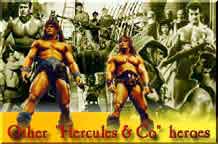 Go to the
Other Hercules Heroes
page, featuring Peter and David Paul, Paul Wynter, Richard Lloyd, and Pierre Brice.