biography
Gordon Mitchell was born Charles Pendleton on July 29, 1923, in Denver, Colorado. Upon his parents' divorce, his mother packed up the family and moved to Inglewood, California, where Mitchell spent his youth. He was called to duty during World War II and, unfortunately, became a prisoner of war. When he was released after the war, he completed college studies in anatomy, biology, and physiology. He used his degree to become a high school teacher who, among other things, taught handicapped students and juvenile delinquents. According to Mitchell, "I was given all the rough kids because of my physique. Wherever there were rowdies, I was called in."
muscle beach days
Steve Reeves
,
Mickey Hargitay
, and
Mark Forest
(aka Lou Degni).
the mae west revue
Following his film debut, he was asked to join the Mae West Revue, along with
Reg Lewis
,
Brad Harris
, and
Mickey Hargitay
. West took her troupe to various locales and created a sensation. According to Mitchell, it was an easy gig: "...It was quite unusual to see so many muscle-clad guys on stage [in the mid 1950s]. We almost always did something wrong, forgot our text or whatnot, but they [the audience] didn't care."
Gordon Mitchell appeared in more than 200 films during his lengthy career which spanned nearly 50 yeras. For his first film appearance, Mitchell was an extra in MGM's low-budget war flick
Prisoner of War
(1954; with Ronald Reagan and Dewey Martin). His film career progressed with a bit in Otto Preminger's
The Man With the Golden Arm
and small but important roles in
The Ten Commandments
(1956) and
Spartacus
(1960). Mitchell also appeared in
L'il Abner
(1959; with
Leslie Parrish
and
Julie Newmar
), in which he and
Brad Harris
were extras in the film.
Following
Steve Reeves
and
Mark Forest
, Mitchell went to Italy in early January 1961 to star in
Atlas in the Land of the Cyclops
, which became a test of endurance for the rugged actor. When he landed in Italy, Mitchell recalls: "I left the plane, they put me in a taxi, [and] transported me in front of a guy who was supposed to do an interview for
Leonviola
." At the time, Mitchell didn't speak Italian, so his starring role proved to be quite a challenge: "They gave me this script... with a literal translation that sounded hideous. I had to fix things a little, so the words would make sense."
Filming
Atlas in the Land of the Cyclops
turned out to be an exhausting experience: "The [six weeks of filming] were bone-hard labor; I didn't even know what time of day it was." Following
Atlas
is my personal Gordon Mitchell favorite,
The Giant of Metropolis
, a film which combines the Italian fusto with an interesting blend of science fiction and is a must-see film for fans of the genre. With Gordon Mitchell's acting career going extremely well, according to William Connolly, he helped his friend and former student
Dan Vadis
break into the Italian film industry.
the films of gordon mitchell
Li'l Abner (1959)
Atlas in the Land of the Cyclops (1961)
The Giant of Metropolis (1961)
The Fury of Achilles (1962)
Ali Baba and the Seven Saracens (1962)
Brennus, Enemy of Rome (1963)
Seven Slaves Against Rome (1964)
The Revenge of Spartacus (1965)
Sword and sandal films as a genre faded in the mid 1960s. Rather than packing up and heading back to America, as many of his contemporaries did, Mitchell stuck with acting. Even before the death of peplum, Mitchell had portrayed bad guys in several Italian fustos such as in
Erik, the Viking
(1965; with
Guiliano Gemma
) and
Brennus, Enemy of Rome
(1963; with Tony Kendall). Mitchell's costars sometimes had difficulty acting against him in the role of adversary. For example, in
Battle of the Valiant
, Mitchell recalls: "...We had great problems to stage a believable fight. [Tony Kendall] was a very nice person, but maybe because of differences in physique or body length, it just didn't work out the way it should, [with] the good guy's triumph over the bad guy.... I really had to force [Kendall] to get nasty; he was so hesitant!"
Mitchell's films illustrate a variety of roles and film genres from sword and sandal flicks, spaghetti westerns, martial arts, comedies, dramas, adventure films, and horror films. He acted in a few 'A' pictures, such as
Reflections in a Golden Eye
(1967; with Marlon Brando and Elizabeth Taylor). Shot in Rome, this film features a scene with Mitchell and Taylor. Mitchell remembers: "[Taylor] was really professional as a worker, not at all like a diva." On another front, Mitchell was able to lend his expertise to John Huston, the director of the film: "Once, they had prepared a scene where Liz was supposed to climb on a horse, with a little ladder. But she did it from the wrong side! It just looked silly. Everywhere there were these horse trainers standing around, and nobody said a word. I couldn't believe it. I couldn't take it any longer and went to the director." Mitchell explained to Huston that this way of mounting was absurd, and Huston quickly made the changes Mitchell had suggested.
In 1970, Gordon Mitchell did a small film for a producer who paid him by giving him a piece of land just outside of Rome. Mitchell turned the parcel into a studio complete with a western town, naming it the Cave Film Studio. However, his idea proved to be mired in local red tape: "I really had no idea what I was in for. There was so much paperwork; it was awful!" The mayor of the locality, for some unknown reason, gave him only a temporary permit to build the western town. Mitchell recalls: "First, directors were a little hesitant [to shoot films at the studio] because they thought I had forgotten to get permission to shoot films there. But I had cleared everything.... Many little producers chose to shoot at my studio because it was much cheaper than the ones at Cinecitta.... We shot maybe 150 films there." Film production ceased when Mitchell's permit ran out.
Thompson 1880 (1966)
Moving Target (1967)
Satyricon (1969)
Das Musikill (2003)
later years
After moving back to the US in the 1990s, Mitchell remained active in films. One of his later film appearances came in 1995's
Bikini Drive-In
, in which Mitchell has a great cameo. Toward the end of his life, he acted in three more films:
An Enraged New World
(2002),
Das Musikill
(2003), and
Malevolence
(2004). Gordon Mitchell passed away peacefully in his sleep on September 20, 2003, at the age of 80. He was survived by many friends. An early marriage ended in divorce in 1950, and Mitchell had no children.
the gordon mitchell gallery
gordon mitchell dvds available from amazon.com
gordon mitchell downloads available
filmography
FILM
Malevolence (2004)
Das Musikill (2003)
An Enraged New World (2002) short feature
Bikini Drive-In (1995) with Ross Hagen, David F. Friedman, Conrad Brooks, and Forrest J. Ackerman; directed by Fred Olen Ray
Seven Devils on Horseback (19??)
The Betrothed (1988)
Blood Delirium (1988)
Overdose (1988) with Laura Albert and Bruce Baron
Three Men on Fire (1988) with Richard Harrison
The Alien Within (1987) with John Carradine and Richard Harrison; directed by Fred Olen Ray
Mines of Kilimajaro (1987)
Operation Nam (1987) (aka Django 2) with Donald Pleasence
SFX Retaliator (1987) with Linda Blair and Christopher Mitchum
Terror Squad Commando (1987)
Faida (1986)
Cobra Mission (1985)
Commando Invasion (1985)
She (1985) with Sandahl Bergman
Operation Orient (1984) with Annamaria Clementi
White Fire (1984) with Fred Williamson
Endgame (1983) with George Eastman
Rush (1983)
Se tutto va bene siamo rovinati (1983)
Treasure of the Lost Desert (1983) with Bruce Miller, Larry Finch, and Susan West
Curse of the Red Butterfly (1982)
Diamond Connection (1982)
Marco Polo (1982) TV miniseries with F. Murray Abraham, Anne Bancroft, Denholm Elliot, Sir John Gielgud, Sir John Housman, Burt Lancaster, Tony Lo Bianco, Leonard Nimoy, Sada Thompson, and Marilu Tolo
Vai avanti tu, che mi vien da ridere (1982)
The Lady Doctor Prefers Sailors (1981) with Marisa Mell and Raf Baldassarre
La Pelle sotto gli artigli (1981)
Mafia: The League Which Does Not Forgive (1981)
Nightfall (1981)
Situation (1981) with Rita Tushingham
Le Coup du parapluie (1980) with Gert Frobe
Three Girls on the Run (1980)
Dr. Jekyll Likes Them Hot (1979)
Emmanuelle's Daughter (1979)
Inchon (1979) with Jacqueline Bisset, David Janssen, and Rex Reed
Special Woman (1979) with Karin Schubert
La Vergine Allegra (1979)
Black Gold (1978) with Richard Harrison
Four for All (1978) with Richard Harrison
La Guerre du Petrole (1978)
Holocaust II (1978)
Porno Erotico Western (1978)
Prends---Moi de Force (1978)
Una Splendida Giornata per Morire (1978)
White Fang and the Grand Kid (1978) with Tony Kendall
Pugni, Dollari e Spinaci (1977)
Slaughterday (1977) with Rita Tushingham and William Berger
SS Hell Camp (1977) with Brad Harris
That Man from Chicago (1977) (aka Le Recain)
Zanna Bianca nel west (1977) with Tony Kendall
Happy Birthday, Harry (1976) with Marisa Mell and Terry-Thomas
Les Chroniques de L'Quest (1976), a French western TV series (seven episodes)
Gli Uccisori (1976)
Kaput lager - gli ultimi giorni delle SS (1976)
Oil (aka The Billion Dollar Fire) (1976) with Ray Milland, Stuart Whitman, Woody Strode, and Tony Kendall
La Polizia ordina: sparate a vista (aka Special Squad Shoots at Sight) (1976)
Little Godfather from Hong Kong (1975)
Two Magnums for a City full of Scum (1975) with Richard Lloyd
Arrivano Joe e Margherito (1974) with Keith Carradine, Sybil Danning, and Tom Skerrit
Posto All Inferno (1974)
Tiger from the River Kwai (1974) with George Eastman
Anything for a Friend (1973)
Demasiados muertos para Tex (1973)
Dr. Frankenstein's Castle of Freaks (1973) with Rossano Brazzi and Edmund Purdom
My Darling Slave (1973)
Quando i califfi avevano le corna (1973)
Sewer Rats (1973) with Richard Harrison
Frankenstein '80 (1972) with John Richardson
The Big Bust Out (aka Crucified Girls of San Ramon) (1972) with Tony Kendall and Vonetta McGee
The Magnificent West (1972)
French Sex Murders (1972) with Anita Ekberg, Barbara Bouchet, Robert Sacchi, and Howard Vernon
The Fighting Fists of Shanghai Joe (1972) with Klaus Kinski
Once Upon a Time in the Wild, Wild West (1972)
Step Aside! Eldorado is Coming to Trinity (1972)
La Schiava io ce l'ho e tu no (1972)
Allons Tuer Sartana (1971)
The Arizona Kid (1971) with Mamie Van Doren
The Cobra (1971) with Sterling Hayden and Senta Berger
Django Story (1971)
Drummer of Vengeance (1971) with Ty Hardin and Rossano Brazzi
Era Sam Wallach (1971)
Fistful of Death (1971) with Klaus Kinski
A Gunman Called Dakota (1971)
His Name was Pot (1971)
Io non Spezzo... Rompo! (1971)
The Nevada Kid (1971) with Klaus Kinski
Operation: Cobra (1971) with Senta Berger and Sterling Hayden
Savage Guns (1971) with Robert Woods
Tre Nel Mille (1971)
They Called Him Trinity (1971)
Dead Men Don't Make Shadows (1970) with Hunt Powers
A Barrel Full of Dollars (1970) with Klaus Kinski and Hunt Powers
Django And Sartana's Showdown In The West (1970) with Hunt Powers
Hour X: Suicide Patrol (1970)
Inginocchiati straniero... I cadaveri non fanno ombra! (1970)
On Your Knees, Stranger (1970)
Se t'incontro, t'ammazzo (1970)
C'era una volta questo pazzo pazzo west (1969)
Finders, Killers (1969)
I Am Sartana, Your Grave Digger (1969) with Samson Burke
I'll Dig Your Grave (1969)
Dead for a Dollar (1969) with John Ireland
Lisa Dagli Occhi Blu (1969)
Satyricon (1969)
Toto Against Ringo (1969)
All on the Red (1968) with Brett Halsey
Bloodsilver (aka Beyond the Law) (1968) with Lionel Stander, Lee Van Cleef, and Antonio Sabato
Carogne Si Nasce (1968)
Cin... cin... cianuro (1968)
The Killer Likes Candy (1968) with Kerwin Mathews
Lynching (1968) with King MacQueen
Phenomenal and the Treasure of Tutankhamen (1968) with Lucretia Love; directed by Ruggiero Deodato under an alias.
Radhapura - Endstation der Verdammten (1968) with George Nader and Rik Battaglia
Seven Times Seven (1968) with Terry-Thomas and Lionel Stander
Born to Kill (1967)
I'll Die for Vengeance (aka Saguaro) (1967) with Kirk Morris and Alan Steel
John the Bastard (1967)
Little Rita in the West (1967) with Kirk Morris and Terence Hill
Moving Target (1967) with Michael Rennie, Ty Hardin, and Robert Downey
Reflections in a Golden Eye (1967) with Marlon Brando and Elizabeth Taylor
Kill or be Killed (aka Ringo Against Johnny Colt) (1966)
L'estate (1966)
Thompson 1880 (1966)
3 Bullets for Ringo (1966) with Mickey Hargitay
Daggers of Blood (1965) with Jeanne Crain, Pierre Brice, and John Drew Barrymore
Hercules and the Princess of Troy (1965) with Gordon Scott and Diana Hyland
Star Pilots (1965) (aka 2 Plus 5: Mission Hydra) with Kirk Morris
The Stone Forest (1965) (aka The Treasure of the Petrified Forest)
The Vengeance of Lady Morgan (1965) with Erica Blanc
Erik, the Viking (1964) with Giuliano Gemma
The Revenge of Spartacus (1964) with Roger Browne, Scilla Gabel, Giacomo Rossi-Stuart, and Daniele Vargas
Seven Slaves Against Rome (1964) with Roger Browne
Ali Baba and the 7 Saracens (1964) with Dan Harrison and Bella Cortez
Brennus, Enemy of Rome (1963) with Tony Kendall and Massimo Serato
The Fury of Achilles (1962) with Jacques Bergerac and Gloria Milland
The Centurion (1962) (aka Conquerer of Corinthe) with Jacques Sernas and John Drew Barrymore
Il Figlio dello Sceicco (1962) (aka Le Retour du fils du sheik and Son of the Sheik) with Gordon Scott and Moira Orfei
Invasion 1700 (1962) (aka With Fire and Sword) with John Drew Barrymore, Akim Tamiroff, and Pierre Brice; directed by Fernando Cerchio
Julius Caesar Against the Pirates (1962) with Abbe Lane
The Giant of Metropolis (1961) with Bella Cortez
Atlas in the Land of the Cyclops (1961) (aka Maciste in the Land of the Cyclops) with Chelo Alonso and Paul Wynter
Vulcan, Son of Jupiter (1961) with Bella Cortez, Roger Browne, and Richard Lloyd
L'il Abner (1959) with Julie Newmar, Stella Stevens, Billie Hayes, and Brad Harris
The Ten Commandments (1956)
The Man with the Golden Arm (1955) with Frank Sinatra and Kim Novak

TELEVISION GUEST APPEARANCES
I Spy, episode Sophia, originally aired September 28, 1966
Ehen vor Gericht, episode Cybersex und Sektenfalle, originally aired May 7, 1998
gordon mitchell links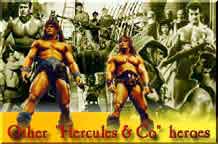 Go to the
Other Hercules Heroes
page, featuring Peter and David Paul, Paul Wynter, Richard Lloyd, and Pierre Brice.
gordon mitchell film now showing
Watch Gordon Mitchell's 1961 sword and sandal epic
The Giant of Metropolis