biography
Born in New Jersey on April 16, 1942, Dave Draper is a 1965 Mr. America, 1966 Mr. Universe, and 1970 Mr. World who made several film and TV appearances in the 1960's, including
Don't Make Waves
(1967; with Tony Curtis) and the entertainingly gruesome black comedy
Lord Love a Duck
(1966; with Roddy McDowall). Also, he made a 1967 appearance as Mr. Universe on the CBS-TV show
The Beverly Hillbillies
. Draper eventually left acting for business endeavors and is presently the manager of the World Gym in Santa Cruz, California.
modeling and bodybuilding photos
the films of dave draper
David the Gladiator
Although Dave Draper never acted in a sword and sandal film, he was once host of a Los Angeles TV program with an emphasis on sword and sandal movies. Billed as "David the Gladiator," Draper hosted a movie each Saturday night on Channel 9. The station was then known as KHJ-TV, owned by RKO.
Steve Reeves
,
Reg Park
, and
Kirk Morris
, among others. (Thanks to Leonard Lane for this information.) And Kevin Norwood writes that he remembers Draper's show:
I was in first grade and couldn't wait for the weekend to catch it!
Don't Make Waves (1967)
dave draper films available from amazon.com
dave draper books available
filmography
FILM
Don't Make Waves (1967) with Tony Curtis, Sharon Tate, Claudia Cardinale, and Reg Lewis
Lord Love a Duck (1966) with Roddy McDowall and Tuesday Weld
Three on a Couch (1966) with Jerry Lewis and Janet Leigh
Walk, Don't Run (1966) with Cary Grant and Jim Hutton
Who's Been Sleeping in My Bed? (1963) with Dean Martin, Elizabeth Montgomery, and Allison Hayes

TELEVISION GUEST APPEARANCES
Here Come the Brides, episode Lorenzo Bush, originally aired December 19, 1969
The Beverly Hillbillies, episode Mr. Universe Muscles In, originally aired October 25, 1967
The Monkees, episode I Was a 99-Pound Weakling, originally aired October 16, 1967
dave draper links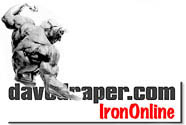 Go to
Dave Draper's IronOnline
site for biographical information, many photos, training tips, products, and more. (Thanks to Laree Draper)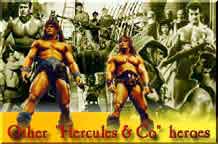 Go to the
Other Hercules Heroes
page, featuring Peter and David Paul, Paul Wynter, Richard Lloyd, and Jacques Sernas.