biography
Born on May 26, 1935, in Salt Lake City, Utah, actor and model Richard Harrison enjoyed a 40-year in films until his retirement from acting in the 1990s. He left Utah for Los Angeles in 1953, taking a job at a gym. Much like his contemporary
Ed Fury
, Harrison started his career as a physique model in the 1950s and graced the covers of numerous magazines.
Kronos
(1957; with
Jeff Morrow
). Several more films followed, including
Battle Flame
(1959; with
Scott Brady
) and
Master of the World
(1961; with
Vincent Price
). While he was getting steady film work, Harrison's career wasn't in the fast lane. So, in 1961 he headed to Rome and became a star in a string of sword and sandal films. That same year, he married his first wife, Loretta, and gained James H. Nicholson, co-owner of American International Pictures, as a father-in-law. Harrison ran with the sword and sandal genre until it died out in the mid 1960s. Unlike some of his contemporaries, he easily made the transition to other film genres, including spy films and spaghetti westerns.
the films of richard harrison
The Invincible Gladiator (1961)
Gladiators Seven (1962)
Medusa Against the Son of Hercules (1963)
Secret Agent Fireball (1965)
Temple of a Thousand Lights (1965)
Vengeance (1968)
The Sewer Rats (1974)
Ninja Terminator (1985)
Ninja Dragon (1986)
richard harrison today
Harrison's career continued to be strong throughout the 1970s and 1980s. In the early 1990s, Harrison and his second wife Francesca moved to Palm Springs, California. He ran for the office of mayor in 1995 and again in 1999 but lost the race to incumbent Will Kleindienst. The retired actor was recently awarded a star on the Palm Springs Walk of Stars. His most recent film project was the experimental film
Jerks
, made in 2000.
richard harrison dvds available from amazon.com
filmography
Jerks (2000) with Francis Fallon
Angel Eyes (1993) with Erik Estrada, John Phillip Law, and Fred Olen Ray
Evil Spawn (1991) with Gordon Mitchell
Highway to Hell (1991)
Empire of the Dark (1990)
Terminal Force (1990) with Michelle Bauer and Troy Donahue; directed by Fred Olen Ray
Dark Mission (1988) with Christopher Mitchum and Christopher Lee
Cobra Vs. Ninja (1987)
Hands of Death (1987)
Ninja Avengers (1987)
Ninja Hunt (1986)
Ninja the Protector (1986)
Honor Thy Father (1986) with Rossano Brazzi, Eddie Constantine, Vincent Gardenia, and Donald Pleasence
Majestic Thunderbolt (1985)
Ninja Thunderbolt (1985)
Neve a Capri (1984)
Hunter's Crossing (1983)
Kiko corri come il vento (1982)
Intrusion Cambodia (1981)
La mondana nuda (1980)
Sex and Black Magic (1980)
I guappi non si toccano (1979)
Napoli storia d'amore e di vendetta (1979)
Pakleni otok (1979)
La guerre du petrole (1978) with Gordon Mitchell
Napoli: i 5 della squadra speciale (1978)
Provincia violenta (1978)
The Mad Dog Killer (1977) with Helmut Berger and Marisa Mell
The Desert Tigers (1976) with Gordon Mitchell and Brad Harris
Bloody Avengers (1976)
The Human Factor (1975)
Four Assassins (1975)
Quei paracul... pi di Jolando e Margherito (1975) with Gordon Mitchell
The Sewer Rats (1974) with Gordon Mitchell and Dagmar Lassander
Revenge of the Godfather (1972) with Erika Blanc
Trinity (1972)
Joe Dakota (1972)
Deadly Trackers (1972) with Anita Ekberg and Rik Battaglia
Los fabulosos de Trinidad (1972)
His Name Was King (1971) with Klaus Kinski
Lo sceriffo di Rockspring (1971)
Acquasanta Joe (1971) with Ty Hardin
Abre tu fosa, amigo, llega Sabata (1971) with Raf Baldassarre
The Hideout (1971)
Reverend Colt (1971) with Guy Madison
Vengeance (1970)
Dig Your Grave Friend... Sabata's Coming (1970) with Erika Blanc
Pussycat, Pussycat, I Love You (1970) with Ian McShane and John Gavin
36 Hours to Hell (1969)
Between God, the Devil and a Winchester (1968) with Gilbert Roland
Uno dopo l'altro (1968)
Hot Diamonds in Cold Blood (1968)
Doctor Faustus (1967) with Richard Burton and Elizabeth Taylor
Fantabulous (1967) with Adolfo Celi
28 minuti per 3 milioni di dollari (1967)
Rojo (1967) with Raf Baldassarre
Mission Casablanca (1966)
Master Stroke (1967) with Adolfo Celi and Margaret Lee
Ring Around the World (1966)
Secret Agent Fireball (1965)
$100,000 for Ringo (1965) with Massimo Serato
Temple of a Thousand Lights (1965) with Daniele Vargas
Adventures of the Bengal Lancers (1964)
Two Gladiators (1964) with Giuliano Gemma
Giants of Rome (1964)
Jungle Adventurer (1964)
Revolt of the Praetorians (1964) with Giuliano Gemma
Messalina Vs. the Son of Hercules (1964) with Lisa Gastoni and Marilu Tolo
Medusa Against the Son of Hercules (1963)
Sons of Vengeance (1963) with Gloria Milland and Raf Baldassarre
Gunfight at Red Sands (1963) with Giacomo Rossi-Stuart
The Saracens (1963)
The Invincible Gladiator (1963)
Gladiators 7 (1962)
Avenger of the Seven Seas (1961)
Master of the World (1961) with Vincent Price and Charles Bronson
Battle Flame (1959) with Robert Blake and Scott Brady
Too Much, Too Soon (1958) with Dorothy Malone, Errol Flynn, Efrem Zimbalist Jr., Ray Danton, Martin Milner, and Vampira
South Pacific (1958) with Rossano Brazzi, Mitzi Gaynor, Ray Walston, France Nuyen, Doug McClure, Ken Clark, and Ron Ely
Kronos (1957) with Jeff Morrow, Barbara Lawrence, George O'Hanlon, and Morris Ankrum
Jeanne Eagels (1957) with Kim Novak, Jeff Chandler, Charles Drake, and Virginia Grey
links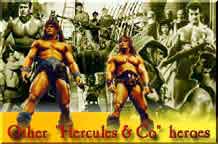 Go to the
Other Hercules Heroes
page, featuring Peter and David Paul, Paul Wynter, and Richard Lloyd.
richard harrison film now showing
Watch Richard Harrison's 1962 sword and sandal film
The Invincible Gladiator