western actor pages
Nick Adams is best known in western circles for his 1959-1961 ABC TV series The Rebel, and he acted in a few western films as well.
Richard Arlen was a star in the final days of silent films and made numerous apperances in westerns in the 1960s for producer A.C. Lyles.
James Best has starred in numerous western films and television shows during his lengthy career but is best known as Sheriff Rosco P. Coltrane on the television series The Dukes of Hazzard.
Although Johnny Mack Brown was a star in silent films, audiences today know him better for the numerous westerns he starred in from the 1930s through the 1950s.
Peter Brown's matinee idol looks and talent have assured his being cast in many films and TV shows during the last fifty years. Avid fans will remember Brown's western TV series Lawman and Laredo.
Rory Calhoun starred in many western B movies, as well as a few memorable 'A' films, during his long career in Hollywood.
Philip Carey acted in a number of westerns in the 1950s, and during the 1960s was one of the stars of the TV series Laredo.
Chuck Connors is best known for his starring role in TV's The Rifleman and made made western films throughout his lengthy acting career.
Fitness trainer turned actor Ray 'Crash' Corrigan is best known for the Three Mesquiteers and Range Busters series of films in which he starred during the 1930s and 1940s.
Olympic champ Buster Crabbe starred as heroes Tarzan, Flash Gordon, and Buck Rogers in the 1930s, but in the 1940s he switched to a series of 'Poverty Row' westerns.
James Craig switched to westerns later in his career and appeared in such films as Hostle Guns, Naked in the Sun, and Last of the Desperados.
Although Lance Fuller is known for his horror films, he acted in far more westerns, such as Secret of Treasure Mountain and Kentucky Rifle in the 1950s.
Robert Fuller gained fame as the star of TV's Laramie and acted in many western films, including Return of the Seven and Mustang Country.
Giuliano Gemma acted in a series of spaghetti westerns in the 1960s and 1970s, including A Pistol for Ringo and Day of Anger.
Ty Hardin is best known for starring as Bronco Layne on the TV series Cheyenne, but Hardin also made a number of spaghetti westerns in the 1960s.
Spaghetti western actor Terence Hill starred alongside Bud Spencer in many Italian western comedies, including My Name is Trinity and Ace High in the 1960s and 1970s.
Tim Holt acted in numerous westerns at RKO but is best remembered for his roles in My Darling Clementine and The Treasure of the Sierra Madre.
Russell Johnson starred in many westerns in the 1950s, including Tumbleweed and Ride Clear of Diablo. Later in his career, he portrayed the Professor on TV's Gilligan's Island.
Red Ryder star Allan 'Rocky' Lane started out in dramas and comedies, but by the early 1940s he was one of Republic Pictures' biggest draws.
Actor John Lupton was cast in many 1950s westerns and was the star of the western TV series Broken Arrow.
Heartthrob Guy Madison made the transition to westerns in the 1950s by taking on the role of Wild Bill Hickok.
Stuntman-turned-actor Jock Mahoney got his start in Charles Starrett's westerns in the late 1940s and starred as TV's Range Rider in the early 1950s.
Doug McClure starred on the long-running western TV series The Virginian and acted in such western films as Shenandoah and The Unforgiven.
Joel McCrea began as a stuntman but graduated to leading man status in the 1930s. He's best known for his many western films such as Buffalo Bill.
Actor George Montgomery made many westerns between the 1930s and 1960s, and also served as writer, actor, and producer for a number of films.
World War II hero Audie Murphy was a western star in the 1950s. Some of his films include Tumbleweed and Drums Across the River.
Actor/director Alex Nicol appeared in many westerns in the 1950s, including Lone Hand and Dawn at Socorro.
Reefer Madness star Dave O'Brien made many quickie westerns at Monogram and starred in PRC's Texas Rangers series before switching to comedy in the late 1940s.
Silent screen star George O'Brien shifted to oaters in the 1930s such as Daniel Boone and The Renegade Rangers.
Film star Jack Palance has acted in numerous westerns throughout his long career, including Shane, The Desperados, and The McMasters.
Singer and actor John Payne made a number of popular western films in the 1950s. He was also the star of the 1957-1959 western TV series The Restless Gun.
Starting out in silent films, actor Gilbert Roland acted in numerous westerns and, in the later 1940s, took over the role of the Cisco Kid.
John Russell acted in such westerns as Fort Massacre and Rio Bravo and went on to star in the TV western Lawman.
Charles Starrett is best known as the 'Durango Kid' in a series of westerns from Columbia, often with Smiley Burnette as his sidekick.
Actor Glenn Strange appeared in numerous B westerns from the 1930s through the 1950s and even tackled the role of Frankenstein's monster for Universal in the 1940s.
Woody Strode had careers as a football player and wrestler before acting in a string of westerns in the 1960s, including Sergeant Rutledge and The Professionals.
Western legend Tom Tyler made well over 100 westerns during his 30-year career in Hollywood. In addition, Tyler also portrayed Captain Marvel and The Phantom in two early 1940s serials.
Lee Van Cleef started his career playing villains in westerns and film noir; in the 1960s, he became an international star in the spaghetti western The Good, the Bad, and the Ugly.
Clint Walker is best known as TV's Cheyenne Bodie, and Walker has acted in numerous western films throughout his career.
Beloved western actor John Wayne starred in dozens of B westerns, including Republic's Three Mesquiteers series, before hitting the big time with Stagecoach.
Bill Williams acted in many westerns during his film career and is remembered today for his TV role as Kit Carson.
western film books available from amazon.com
western film links
Horse Opera: Cowboys of the Silver Screen and Television
The Horse Opera pages contains photos and information on Bob Steele, Buster Crabbe, Tex Ritter, Johnny Mack Brown, Gabby Hayes, Hoot Gibson, and many more western actors from yesterday (new URL).
now showing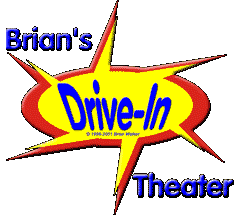 Click on the logo to go back to Brian's Drive-In Theater
This page premiered October 1, 1999.
Copyright and Disclaimer Information