Superheroes and Serial Stars
| | | | | |
| --- | --- | --- | --- | --- |
| | Kirk Alyn was the first actor to portray Superman onscreen in two Columbia Studios serials. | | | Bruce Bennett was a former Olympic gold medalist who starred in The New Adventures of Tarzan. He acted in other serials until he was signed by Warner Bros. |
| | Reb Brown starred as Captain America in the 1970s; in the 1980s, he was the lead in Yor, the Hunter from the Future. | | | Ralph Byrd acted in many serials but is most famous for portrayed in the title character in Republic's Dick Tracy serials in the late 1930s and early 1940s. |
| | Fitness trainer turned actor Ray 'Crash' Corrigan landed his first big role in the science-fiction themed Undersea Kingdom serial from 1935. | | | Former Tarzan Buster Crabbe took on the roles of Flash Gordon and Buck Rogers in late 1930s serials. |
| | Lou Ferrigno's first starring role was in the CBS-TV series The Incredible Hulk. Later, he went on two portray Hercules in two 1980s films. | | | Western star Allan Lane starred in a number of Republic serials, such as King of the Royal Mounted, King of the Mounties, and The Tiger Woman. |
| | Although George Reeves was the second actor to don Superman's cape, he is perhaps the best-remembered actor in the role. | | | Serial star Kane Richmond had great success in 1930s and 1940s serials, including Republic's Spy Smasher and Columbia's Brenda Starr, Reporter. |
| | At Universal, Jean Rogers was the queen of serials, starring in Flash Gordon, Ace Drummond, and Flash Gordon's Trip to Mars. | | | Like many other western actors, Tom Tyler also did double-duty as an action hero. Tyler starred as Captain Marvel and The Phantom in two 1940s serials. |
| | Batman star Adam West has enjoyed a long career in films and television. He's best known as the Caped Crusader from the campy 1960s series Batman. | | | Surfside 6 heartthrob Van Williams was cast as The Green Hornet in the mid 1960s. |
superhero and serial links

Superhero Stuff.Com offers Spider-Man T-Shirts, Superman T-Shirts, Batman T-Shirts, Robin T-Shirts, and DareDevil T-shirts. And there are also T-shirts of Captain America, X-Men, The Flash, Wonder Woman, The Fantastic Four, Venom, Wolverine, Punisher, The Thing, Thor, Green Lantern. Superhero Stuff.Com is also getting club shirts, magnets, Batman & Superman Clocks, how to draw books, comic shields & back boards, symbols & logos of all the heroes, wallpapers, sculptures, even tattoos, Super Hero Monopoly games and much more.

Everything there is to know about the Man of Steel! This site includes lots of information about the actors who have portrayed Superman, including George Reeves, Bud Collyer, Christopher Reeve, Kirk Alyn, and many more. Plus, there's information about the actresses who have portrayed Lois Lane, addresses of actors from the Superman films and TV series, and much, much more.
now showing
Ralph Byrd
and
Boris Karloff
starring in the 1947 film
Dick Tracy Meets Gruesome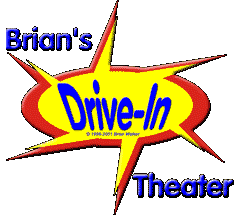 Click on the logo to go back to Brian's Drive-In Theater
This page premiered February 1, 1998.
Copyright and Disclaimer Information