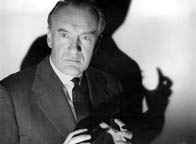 Visit the
George Sanders
page.
Tura Satana (1938-2011)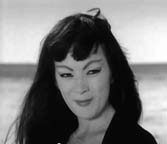 Born in Japan in 1938, gorgeous Tura Satana was raised in Chicago. After a brief marriage at age 13, Satana kept her husband's last name and became a burlesque dancer in Chicago clubs as a young teenager, keeping her age a secret. In the late 1950s, pregnancy forced an end to her nude dancing career. After another brief marriage, Satana relocated to Los Angeles, Satana embarked on an acting career and soon nabbed a small role in
Irma la Douce
(1963; with Jack Lemmon and Shirley MacLaine) and was cast in guest spots on
Burke's Law
and
The Man from U.N.C.L.E.
. Her most famous role, as Varla, came in Russ Meyer's groundbreaking
Faster, Pussycat! Kill! Kill!
(1965; with Haji and Lori Williams). Afterward, she acted in the Ted V. Mikels films
The Astro-Zombies
(1969; with
Wendell Corey
and
John Carradine
and
The Doll Squad
(1973; with Francine York and
Anthony Eisley
). In 1973, Satana was shot by a jealous boyfriend; in addition, a serious auto accident broke her back and sidelined her acting career. After working as a nurse and police dispatcher, Satana moved to Nevada and worked security for casinos. Sadly, Tura Satana died of heart failure on February 4, 2011, in Reno at the age of 72. She was survived by her two daughters.

Visit the
John Saxon
page.
Visit the
Gordon Scott
pages.

Visit the
Zachary Scott
page.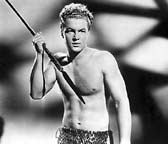 Visit the
Johnny Sheffield
page.

Visit the
Ann Sheridan
page.
Max Showalter (1917-2000)

Sometimes billed as 'Casey Adams,' Max Showalter had a successful career on Broadway, beginning in the 1930s. When he entered films in the 1950s, he used the stage name "Casey Adams" in his mostly modestly budgeted films, which include
Indestructible Man
(1956; with
Lon Chaney Jr.
) and
The Monster That Challenged the World
(1957; with
Jody McCrea
). He was memorable in "A" pictures as well, especially
Niagara
(1952; with Marilyn Monroe). In the late 1950s, he reverted to using his real name, but worked in films and television only infrequently thereafter. One of his last films,
Sixteen Candles
(1984; with Molly Ringwald) was one of his best. Showalter passed away at age 83 in 2000.

Best known for her role in the atmospheric horror thriller
Cat People
(1942; with Tom Conway), beautiful Simone Simon appeared in a number of Hollywood-made B movies in the 1930s and 1940s. Born in France in April 1910, Simon worked as a model before entering films in her native country in the early 1930s. She became quite popular in Europe and was brought to Hollywood in the mid 1930s to be a star actress. Signing with 20th Century Fox, Simon appeared in a handful of films including
Ladies in Love
(1936; with Janet Gaynor and Constance Bennett) and
Love and Hisses
(1937; with
Joan Davis
and Bert Lahr). However, Simon's career was going nowhere fast, so she left Hollywood for France to reestablish herself in European cinema. Not long after her return, the outbreak of World War II drove Simon back to Hollywood, where she stayed for the duration of the war and starred in her biggest film,
Cat People
. Her other films from this period include
Tahiti Honey
(1943; with Dennis O'Keefe) and
Mademoiselle Fifi
(1944; with John Emery). Following the end of World War II, Simon headed back to France, but her career never rebounded. Simon passed away in February 2005 at the age of 94.

Visit the
Penny Singleton
page.
Alexis Smith (1921-1993)

Canadian beauty Alexis Smith was put under contract to Warner Bros. while still a teenager. As with most other starlets, Smith started with bit parts for a year or so. However, barely 18 months after signing with Warner Bros., she was given starring roles in
Dive Bomber
(1941) and
Steel Against the Sky
(1941). She met handsome fellow Warner contract player
Craig Stevens
on the set of the latter film; three years later, the couple married. Unlike many starlets, marriage and motherhood didn't slow Smith's career, which remained active through the late 1950s. By this time Stevens was enjoying success with his series
Peter Gunn
(1958-1961). Smith went on a long hiatus, resurfacing in the 1970s on Broadway, in films, and on television. Sadly, Smith passed away from brain cancer at the age of 72 in 1993.

Visit the
Fay Spain
page.

Visit the
Charles Starrett
page.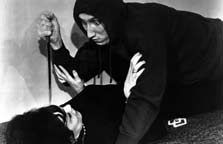 Born in Reading, Pennsylvania, on January 25, 1938, famed cult horror director Ray Dennis Steckler began his career in film as a cameraman in the late 1950s. By the early 1960s he had moved into directing, with his first effort
Wild Guitar
(1962; with
Arch Hall, Jr.
and Nancy Czar). Steckler also appeared in several of his films as an actor, using the stage name "Cash Flagg." He produced, directed, and starred in
The Incredibly Strange Creatures Who Stopped Living and Became Mixed-Up Zombies
(1964) and cast his wife, Carolyn Brandt, in the film as well. With a production budget of $38,000,
Zombies
actually did well at the box office and was resurrected in the late 1990s as an episode of
Mystery Science Theater 3000
. He followed up with
The Thrill Killers
(1964; with Liz Renay and Carolyn Brandt). After the births of his daughters in the mid 1960s, Steckler lensed a couple of films aimed at children, including the homage to the Bowery Boys films
Lemon Grove Kids Meet the Monsters
(1965; with Carolyn Brandt and Coleman Francis) and his Batman spoof
Rat Pfink a Boo Boo
(1966; with Carolyn Brandt). After a few more horror films, such as
Body Fever
(1969; with Carolyn Brandt and Gary Kent) and
Blood Shack
(1971; with Carolyn Brandt and Ron Haydock), Steckler began producing soft-core adult films, with the occasional return to horror films in the late 1970s and early 1980s. Steckler and Brandt divorced in 1973 but remained friends. Plagued by heart disease during his final years, Ray Dennis Steckler passed away on January 7, 2009, at the age of 70. He is survived by his second wife, four daughters, and two grandchildren.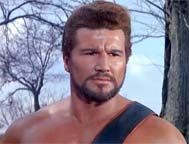 Visit the
Alan Steel
page.

Visit the
Jan Sterling
page.

Visit the
Craig Stevens
page.
Mark Stevens (1916-1994)

Character actor Mark Stevens worked in a number of films in the 1940s, often in small roles. He had more success in the 1950s, starring in such films as
Reunion in Reno
(1951; with Frances Dee and Leif Erickson) and
Jack Slade
(1953; with
Dorothy Malone
). He moved on to television series work in the mid 1950s in the shows
Martin Kane, Private Eye
and
Big Town
. His career began to lose momentum in the late 1950s; he eventually went to Spain and did several films there before retiring. In the 1980s, he returned to acting and did some guest spots on television series. Stevens passed away in 1994 at the age of 77.
Visit the
Elaine Stewart
page.
Visit the
Gale Storm
page.

Visit the
Glenn Strange
page.
Bob Steele (1907-1988)

During a career that spanned more than 50 years, Bob Steele acted in more than 200 films and made dozens of television appearances. Born Robert Bradbury, Steele was the son of vaudevillian-turned-western-film director Robert Bradbury Sr., who put his Bob and his brother to work in the early 1920s in a series of shorts entitled
The Adventures of Bill and Bob
. In the late 1920s, he signed a contract with FBO and changed his name to Bob Steele. FBO churned out B movies primarily for southern audiences, with a particular emphasis on westerns. By the early 1930s, Steele was heavily identified with western films, and in the 1940s he entered the successful
Three Mesquiteers
series of films. While he headlined in B westerns, Steele also had supporting roles in some A films, including
Of Mice and Men
(1939). By the early 1950s, B westerns faded due to the rise of westerns on television, but Steele worked steadily through the early 1970s, but often in bit parts. His final film was the 1973 horror flick
Nightmare Honeymoon
. Steele died in 1988 at the age of 81.

Visit the
Woody Strode
page.
Barry Sullivan (1912-1994)

Veteran character actor Barry Sullivan got his start in New York theater in the 1930s. After working his way up by acting on stage and appearing in short subjects, Sullivan got his big break in the 1943 western
The Woman of the Town
, paving the way for many western films to come for him. Throughout the 1940s and 1950s, Sullivan appeared in numerous A and B films, including
Getting Gertie's Garter
(1945; with Marie McDonald),
The Great Gatsby
(1949; with
Alan Ladd
),
Queen Bee
(1955; with Joan Crawford and Fay Wray), and
Another Time, Another Place
(1958; with Lana Turner). In 1956, Sullivan went to the small screen to star in the series
The Man Called X
, which was short lived but Sullivan landed another series, the following year,
Harbourmaster
. By the 1960s, Sullivan's film career had begun to slide in such films as
Planet of the Vampires
(1965) and
My Blood Runs Cold
(1965; with
Troy Donahue
), but he worked regularly in television throughout the late 1970s, when he retired from acting. Sullivan died in 1994 at the age of 81.
Lyle Talbot (1902-1996)

Born in February 1902 in Pittsburgh, veteran actor Lyle Talbot worked extensively in both television and film. Talbot was prolific from the 1930s through the 1960s, acting in any film that was offered to him. For a time in the early to mid 1950s, Talbot was the president of the Screen Actors Guild (SAG). Ironically, at the very same time he was president of SAG, he was acting in
Ed Wood's
non-union cut-rate films, thereby violating SAG's labor policies. Avid TV viewers can catch Talbot as Ozzie and Harriet Nelson's neighbor from their 1952-1966 series. Thanks to Michael Geigenfeind for the above photo.

Visit the
Gloria Talbott
page.
Phillip Terry (1909-1993)

Although Phillip Terry appeared in more than 80 films, he will always be best remembered as Joan Crawford's third husband. Terry's acting career never really took off, despite being in films for about 30 years. Many of his early roles were small and often uncredited. He did better in the early 1940s, taking on bigger and more numerous roles in good films, including
The Monster and the Girl
(1941; with Ellen Drew) and
To Each His Own
(1946; with Olivia de Havilland). For a few years in the early 1940s, he was under contract to Paramount and later to RKO. After his 1946 divorce from Crawford, Terry's film career began to slide. He focused his attentions on real estate instead, and became quite successful in this endeavor, accumulating a good deal of wealth. He remarried, this time successfully as well. Throughout the 1950s and 1960s, Terry took on occasional roles in film and television; some of his best B's from this period include
The Leech Woman
(1960; with
Coleen Gray
and
Grant Williams
) and
The Navy vs. the Night Monsters
(1966; with
Mamie Van Doren
and
Anthony Eisley
). He retired in the early 1970s, but a few years later he fell into ill health. He passed away in 1993 after years of being an invalid.
Carlos Thompson (1923-1990)

Argentina-born actor Carlos Thompson starred in many international film productions from the 1940s through the 1960s. He got in his start in films in his native Argentina in the mid 1940s, and as his career progressed he was cast in several Hollywood films in the 1950s, including
Fort Algiers
(1953; with
Yvonne De Carlo
) and
The Flame and the Flesh
(1954; with Lana Turner). On the set of
Between Time and Eternity
(1956), Thompson met actress Lilli Palmer; following her divorce from Rex Harrison in 1957, Thompson and Palmer married. The couple starred in two other international productions in the early 1960s. Palmer passed away in 1986, and Thompson died in 1990. The above photo is from the
Jeff Chandler
and Esther Williams potboiler
Raw Wind in Eden
(1958), released by Universal-International.

Visit the
Marshall Thompson
page.
Lawrence Tierney (1919-2002)

The older brother of actor
Scott Brady
, Lawrence Tierney got his start in Hollywood playing bit parts in the early 1940s; in 1943, he signed a contract with RKO. A couple of years later, Tierney landed his breakthrough role as gangster John Dillinger in
Dillinger
(1945; with Anne Jeffreys), but this role led to his typecasting as a villian. Despite his bad guy image, well-publicized barroom brawls hurt Tierney's career; by the mid 1950s, he was washed up in Hollywood. He attempted several comebacks in the 1960s and 1970s, but his offscreen troubles shot his career down. In the early 1980s, Tierney cleaned up his act and finally was able to enjoy a well-deserved comeback in such films as
Prizzi's Honor
(1985),
Tough Guys Don't Dance
(1987), and
Reservoir Dogs
(1992). Tierney died in his sleep in late February 2002 at the age of 82. The photo above is from
The Hoodlum
(1951).

Visit the
Pamela Tiffin
page.
Thelma Todd (1905-1935)

Beautiful Thelma Todd made a name for herself as a gifted comedienne in a series of Hal Roach comedies in the early 1930s. Todd was part of a comedy team, first with ZaSu Pitts and later with Patsy Kelly. Todd made numerous short comedies; two of her best are
Done in Oil
(1934; with Patsy Kelly) and
Top Flat
(1935; with Patsy Kelly). The team of Todd and Kelly was a sort of female counterpart to Laurel and Hardy. Todd had less success in full-length films, although her two features with the Marx Brothers
Monkey Business
and
Horse Feathers
proved successful. Todd was found dead in her garage in December 1935. Her death remains a mystery.
Mel Torme (1925-1999)

Although Mel Torme is better known for his velvety singing voice, he also made a number of B movies, mostly in the late 1950s and early 1960s. Some of his film include
Girls Town
(1959; with
Mamie Van Doren
) and
The Private Lives of Adam and Eve
(1961; with
Mamie Van Doren
and
Fay Spain
). In the late 1980s and early 1990s, Torme made numerous appearances on the TV series
Night Court
, as the star of the show, Harry Anderson, was a huge Mel Torme fan. Sadly, Torme passed away in 1999 at the age of 73. One of Torme's wives was scream queen Janette Scott [from
Day of the Triffids
(1962) and
The Old Dark House
(1963)], to whom he was married from 1966 to 1977.
Sonny Tufts (1911-1970)

Tall, blond, handsome, and well-educated, Sonny Tufts became a film heartthrob in the early 1940s. Beforehand, he had concentrated on a singing career. Tufts made a big splash in his first big film,
So Proudly We Hail!
. (1943; with
Veronica Lake
), but by the late 1940s, his career had gone south, much like Lake's. His alochol problems made headlines and adversely affected his career; by the mid 1950s, his career was in tatters. Nonetheless, he proved himself a good actor and appeared in several cult classics, including
Cat Women on the Moon
(1953; with
Marie Windsor
) and
The Seven Year Itch
(1955; with Marilyn Monroe). In the late 1960s, Tufts began to rebuild his career, in television appearances and in a final film,
Cottonpickin' Chickenpickers
(1967; with Tommy Noonan). Years of hard living had taken a toll on his health, and Tufts passed away in 1970 at the age of 58.

Visit the
Tom Tryon
page.

Visit the
Tom Tyler
page.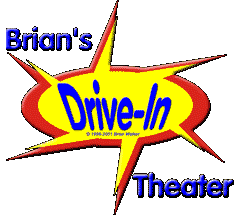 Click on the logo to go back to Brian's Drive-In Theater
This page premiered September 10, 2001.
Copyright and Disclaimer Information