biography
Born Edward Davis Wood Jr. in Poughkeepsie, New York, on October 10, 1924, director Ed Wood grew up with a love for films and spent many Saturday afternoons at matinees watching cowboy heroes such as
George O'Brien
and
Tom Tyler
. After graduating from high school in 1942, Wood joined the Marines and experienced grueling and devastating combat duty. At the end of World War II, Wood moved to California in 1947 to obtain work in the motion picture industry. The following year, he started a small company with John Crawford Thomas, shooting early television commercials. Wood directed more than 150 commercials throughout the 1950s, and he also shot a few TV shows.
LEFT and CENTER A: Posters from Glen or Glenda? and Jailbait. CENTER B: Edward D. Wood, Jr., circa 1952. RIGHT: Photo from a memorial benefit for Bela Lugosi in late 1956. Left to right: Allan Nixon, Vampira, Tor Johnson, Stepin Fetchit, Bela Lugosi Jr., Paul Marco, and Dolores Fuller
In early 1953, Wood got his big break in motion pictures when exploitation producer George Weiss hired Wood to write and direct a film titled
I Changed My Sex
to capitalize on the interest surrounding the sex change of Christine Jorgensen. Wood altered the slant of Weiss' production to replace transsexualism with transvestism and, amazingly, shot the film in four days while directing and playing the lead.
the films of ed wood
Glen or Glenda? (1953)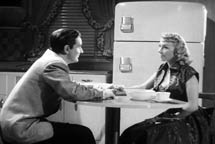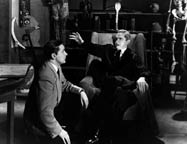 LEFT: Ed Wood as the title character in Glen or Glenda?. CENTER: Wood starred alongside girlfriend Dolores Fuller. RIGHT: With Bela Lugosi
As cheap as the film appears to be, Wood overshot the budget by $6,000; production costs totaled $26,000, which was a ridiculously low budget even in the early 1950s. The film was released simultaneously under three titles:
Glen or Glenda
,
I Led Two Lives
, and
I Changed My Sex
. As was often the case with exploitation titles, different regions of the country received different titles. The film mostly played grindhouses in the south and in the end made money for Weiss.
Bride of the Monster (1955)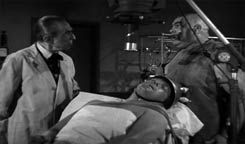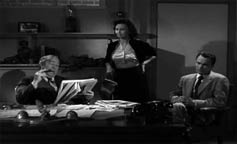 LEFT: With Bela Lugosi and Tor Johnson star in Wood's Bride of the Monster. RIGHT: With Wood regular Harvey B. Dunn, along with love interests Loretta King and Tony McCoy
Plan 9 from Outer Space (1959)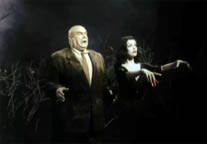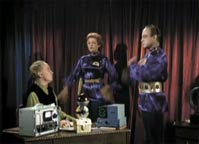 LEFT: Tor Johnson and Vampira are the ghouls in Wood's Plan 9 from Outer Space. RIGHT: John Breckinridge, Joanna Lee, and Dudley Manlove are cast as the aliens who attempt to take over the world
The Sinister Urge (1961)

Poster from Wood's The Sinister Urge, a film about the pornography industry and its victims. This is probably Wood's most polished film
later years
Sadly, as time passed things got worse for Wood and his career. After
Dolores Fuller
ended their relationship, Wood married stage and TV actress Norma McCarty in late 1955, but the union ended when she discovered that her new husband was a crossdresser. He then married Kathy Everett in 1956, and this marriage lasted until his death. As for his film career,
Plan Nine from Outer Space
was shot in 1956 but did not find a distributor until 1959, and
Night of the Ghouls
(1958) went unreleased for 23 years because Wood couldn't pay lab costs for prints.
Plan Nine
was sold into TV syndication in 1961 and is the film primarily responsible for Wood's reputation today, as it exposed generations of late night TV viewers to his work.
The theme of Wood's
The Sinister Urge
(1961), about the victims of the pornography industry, proved strangely prophetic. By the 1960s, with alcoholism taking its toll on Wood, he resorted to writing potboiler pornographic novels and making sexploitation films with Steven Apostolof (such as
Orgy of the Dead
in 1965) to support himself and his wife. Wood's career eventually slid into the production of hardcore pornography, such as
The Undergraduate
(1972). He also directed several one-reel loops for the "Swedish Erotica" series as well as other porn shorts.

Ed Wood's real talents lie in writing; his novels were usually written in a three-day period for $1,000 or less
Wood never really profited from any of the films he made, unlike other low-budget directors such as
Del Tenney
and
Herschell Gordon Lewis
. At most, he made just enough to support himself while the films were in production. Others, however, made small fortunes from Wood's labors. He was paid just $500 to write the script for
The Violent Years
(1956; with Jean Moorhead and Timothy Farrell). The film instantly became a cult classic and in its original release made well over $1 million. Say what you will about Wood's writing style;
The Violent Years
contains then-shocking content, including a male-rape scene led by Moorehead.
Broken by the ultimate failure of his career, financial difficulties, and his serious alcohol addiction, Wood died of a heart attack on December 10, 1978, at age 54. He was survived by his wife, Kathy, and a daughter born out of wedlock during the latter days of World War II. In the early 1980s, Wood's films began to find an appreciative and enthusiastic audience, particularly
Plan 9 From Outer Space
(1959) and
Glen or Glenda?
(1953). Although Wood is often touted as the worst director ever, in truth there are many directors who have consistently made terrible films.
the cast
From his acting, screenwriting, and directorial debut in 1953's
Glen or Glenda
to 1961's
The Sinister Urge
, Ed Wood managed to keep a collection of loyal regular cast members. Paul Marco, Conrad Brooks,
Dolores Fuller
, Mona McKinnon, Criswell, Kenne Duncan, Harvey B. Dunne,
Tor Johnson
, and
Bela Lugosi
appeared in two or more of Wood's movies.
Criswell
The Jack Paar Show
and
The Tonight Show
a number of times, and in addition he wrote several books. Criswell passed away at age 75 on October 4, 1982 and was survived by his wife, former burlesque queen Halo Meadows (1905-1985).
Dolores Fuller

Click on the photo above to go to the Dolores Fuller page.
Tor Johnson

Click on the photo above to go to the Tor Johnson page.
Bela Lugosi

Click on the photo above to go to the Bela Lugosi page.
Vampira
Catherine Was Great
in the 1940s but was fired when Nurmi garnered very favorable reviews, upstaging West in the process. In 1954, a chance costume contest found Nurmi made up much like Morticia Addams from Charles Addams' cartoon strip. She was then offered a horror hostess job at KABC Channel 7 in Los Angeles for which she created the character Vampira. In 1955, Nurmi caused quite a public stir after meeting James Dean, attempting but failing to strike up a relationship. Sadly, she was fired by KABC in 1956. She agreed to appear in Ed Wood's
Plan Nine from Outer Space
as the ghoul's wife, for a sum of $200. In addition, she made a few other films before quitting acting, including
Steve Cochran, Mamie Van Doren, and Ray Danton), Sex Kittens Go to College (1960; with Mamie Van Doren, John Carradine, and Tuesday Weld). Nurmi was once married to screenwriter Dean Reisner and later married actor Fabrizio Mioni in the early 1960s. After her career dried up, Nurmi turned her attentions to art and jewelry making. After Wood's films became a cult sensation in the 1980s, Nurmi became a frequent interview subject. Sadly, she passed away at age 86 on January 10, 2008.

ed wood films available from amazon.com
edward d. wood jr. downloads available
edward d. wood jr. books available
filmography
This is listing of Wood's directorial efforts is likely incomplete and does not include Wood's screenwriting credits:

Necromania (1971) with Rene Bond and Ric Lutze
The Only House (1971)
Excited (1970)
The Sinister Urge (1961) with Kenne Duncan, Duke Moore, and Carl Anthony; once aired on Mystery Science Theater 3000
Night of the Ghouls (1959) with Kenne Duncan, Tor Johnson, and Valda Hansen
Plan 9 from Outer Space (1958) with Dudley Manlove, Gregory Walcott, Lyle Talbot, Vampira, and Tor Johnson
Final Curtain (1957; short) with Dudley Manlove
The Night the Banshee Cried (1957; short)
Bride of the Monster (1956) with Bela Lugosi, Tor Johnson, Dolores Fuller, and Tony McCoy; once aired on Mystery Science Theater 3000
Jail Bait (1954) with Steve Reeves, Dolores Fuller, Lyle Talbot, Theodora Thurman, and Herbert Rawlinson
Boots (1953; short)
Crossroad Avenger: The Adventures of the Tucson Kid (1953; TV pilot) with Tom Tyler, Lyle Talbot, Kenne Duncan, and Edward D. Wood Jr.
Glen or Glenda (1953) with Bela Lugosi, Dolores Fuller, Lyle Talbot, and Edward D. Wood Jr.
Trick Shooting with Kenne Duncan (1953; short) with Kenne Duncan
The Sun was Setting (1951; TV show) with Phyllis Coates
The Streets of Laredo (1948) with Duke Moore
ed wood links
EdWood.Org: The Home of the Church of Ed Wood
The Church of Ed Wood upholds the morals and ideals of Edward D. Wood and tries to preach Ed's message of total understanding and acceptance, regardless of what modern society may say.

Yahoo! Group: Criswell Predicts
A shrine to the astounding Criswell. Pics, Soundfiles, Movies and lots of links.

Edward D. Wood Jr.
This page contains many, many links to Ed Wood sites across the Internet.

edward d. wood jr. film now showing
Watch Wood's 1951 telefilm short The Sun Was Setting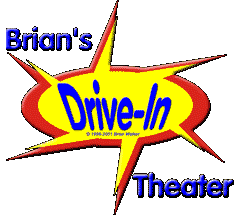 Click on the logo to go back to Brian's Drive-In Theater
This page premiered February 1, 1998.
Copyright and Disclaimer Information