Bruce Cabot (1904-1972)

Screen heavy Bruce Cabot started as a bit player, but signing a contract with RKO in the early 1930s solidified his career. His best known role came in the film
King Kong
(1933; with Fay Wray), and his career continued to be strong throughout the 1930s and 1940s. By the 1950s, however, Cabot found roles hard to come by, so he went to Europe and acted in numerous Italian films including
Goliath and the Barbarians
(1959; with
Steve Reeves
. In the 1960s, Cabot enjoyed a resurgeance of his career, which kept going strong until his health deteriorated in the early 1970s. After the release of Cabot's final film
Diamonds Are Forever
(1971; with Sean Connery), he passed away in May 1972 from cancer at the age of 68.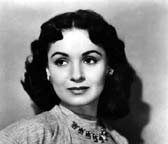 Visit the
Susan Cabot
page.

Visit the
Rory Calhoun
page.
Corinne Calvet (1925-2001)

French-born beauty Corinne Calvet began her Hollywood career in the 1949 release
Rope of Sand
. On the set of that film, she met up and coming actor
John Bromfield
, and the couple married soon afterward. Calvet's acting career continued, but the marriage fizzled in 1954. The following year, Calvet married Jeffrey Stone and stepped out of the limelight. But upon her divorce from Stone in the late 1950s, Calvet began accepting acting assignments, on an infrequent basis. In the 1970s, she abandoned her acting career to become a therapist, but in the 1980s she once again graced the stage, and even had a recurring role on the ABC-TV soap
General Hospital
in the late 1980s. Calvet passed away in June 2001 at the age of 76. She was survived by a son.
Rod Cameron (1910-1983)

Canadian-born Rod Cameron got his start in Hollywood as stuntman and bit player in the 1930s. He worked steadily as an actor in the early 1940s when his big creak came in the form of the fifteen-chapter serial
Secret Service in Darkest Africa
(1943)---this serial served as a template for Steven Spielberg's
Raiders of the Lost Ark
(1981) and the films that followed it.
Secret Service
made Cameron a headliner, and from then on he started in numerous low-budget westerns and action films. His film career was still in high gear when he decided to do television in the 1950s. Leaving westerns behind, he used his talents in TV crime drama series including
City Detective
(syndicated; 1953-1955) and
State Trooper
(syndicated; 1956-1959). In 1960, Cameron fueled gossip columns by divorcing his wife and marrying his ex-mother-in-law. His career began to wane afterward, although he took on acting assignments through the late 1970s. Cameron passed away from cancer in 1983 at age 73.

Visit the
William Campbell
page.

Visit the
Judy Canova
page.

Visit the
Philip Carey
page.

Visit the
Richard Carlson
page.

The son of actor
John Carradine
, David Carradine spent time in the military and went to college before launching an acting career in the early 1960s. After several guest appearances on TV programs, Carradine made his film bow in the western
Taggart
(1964; with Dan Duryea). In 1966, he was cast as the lead in the ABC western series
Shane
, but the show was canceled mid-season. Afterward, Carradine began to focus on a film career in such B movies as
The Violent Ones
(1967; with Fernando Lamas,
Aldo Ray
, and Lisa Gaye) and The Good Guys and the Bad Guys (1969; with Robert Mitchum,
Tina Louise
, and
Marie Windsor
) before trying his hand at another TV series, the wildly popular ABC western
Kung Fu
(1972-1975). Much like his father, Carradine made a string of entertaining, low-budget films throughout his career such as
Death Race 2000
(1975; with Sylvester Stallone and Mary Woronov),
Cannonball!
(1976; with Bill McKinney, Robert Carradine,
Judy Canova
, and Mary Woronov), and
Safari 3000
(1982; with Stockard Channing and
Christopher Lee
). While he worked steadily throughout the years, alcohol problems began to take a toll on his health and career. However, Carradine cleaned up his act and renewed his popularity in
Kill Bill, Vols. 1 and 2
(2003; with Uma Thurman, Lucy Liu, and Michael Madsen). Sadly, while working on a film in Bangkok, Carradine was found dead in his hotel room on June 3, 2009, at the age of 72. He is survived by his fifth wife, two daughters, a son, and several step-children. Although there has been much speculation, the cause of Carradine's death is unknown at this time.

Visit the
John Carradine
page.
Regina Carrol (1943-1992)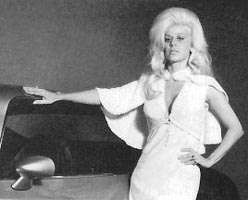 Carrol was a buxom blond actress and nightclub singer who made movies exclusively for her husband, director Al Adamson, including
Blazing Stewardesses
(1974; with
Yvonne De Carlo
),
Blood of Ghastly Horror
(1971, with
Tommy Kirk
), and my personal favorite,
Dracula vs. Frankenstein
(1971; with
Anthony Eisley
and
Lon Chaney Jr.
). Along the way in her film career, she picked up the moniker "The Freak-Out Girl." She passed away at age 49 of cancer in St. George, Utah.
Leo G. Carroll (1892-1972)

British-born Leo G. Carroll spent years as a stage actor before moving into films in the 1930s. Moving freely between A and B movies, Carroll enlivened such films as
Rebecca
(1940; with Joan Fontaine) and
Tower of London
(1939; with
Boris Karloff
). In the 1950s, he moved into television as the star of
Topper
while acting in films such as
Tarantula
(1955; with
John Agar
and
Mara Corday
). Retiring in the late 1960s, Leo G. Carroll died in October 1972, just days before his 80th birthday.

Visit the
Peggie Castle
page.

Visit the
William Castle
page.
Chick Chandler (1905-1988)

Born in New York in 1905, Chandler was a veteran character actor who worked steadily from the early 1930s through the early 1970s. He provided solid performances in such 'B' pictures as
Leave It to Blondie
(1945; with
Arthur Lake and Penny Singleton
) and
Lost Continent
(1951; with
Hugh Beaumont
). He also had supporting roles in 'A' films as well, including
The Bride Came C.O.D.
(1941; with Bette Davis) and
There's No Business Like Show Business
(1954; with Marilyn Monroe). He also worked in television, making guest appearances and having a regular role on the series
Soldiers of Fortune
(1955-1956) and
One Happy Family
(1961-1962). Chandler retired from the screen at age 65 and passed away in September 1988 at the age of 83. The above photo is from
Steel Town
.

Visit the
Lon Chaney Jr.
page.
Linda Christian (1923-2011)

Mexican-born knockout Linda Christian's early life was nomadic; the actress spent her early days in Europe, Africa, and South America. At the urging of sometime lover Errol Flynn, Christian went to Hollywood, where she was discovered and put under contract to MGM. Her first credited film role cames in the MGM adventure
Green Dolphin Street
(1947; with Lana Turner and Van Heflin) and RKO's
Tarzan and the Mermaids
(1948; with
Johnny Weissmuller
and George Zucco). Just as her career began rolling, Christian met and married screen idol Tyrone Power. Interestingly, the press surrounding her marriage and motherhood improved her career. Throughout the 1950s, she starred in such films as
Battle Zone
(1952; with
John Hodiak
),
Slaves of Babylon
(1953; with
Richard Conte
), and
Thunderstorm
(1956; with Carlos Thompson). Yet her career began to suffer with her divorce from Power in 1956. Her ability to speak multiple languages fluently served her well, and by the early 1960s Christian was a star in Europe. Christian was briefly married to actor Edmund Purdom (1962-1963) and continued her acting career into the late 1960s. Sadly, Linda Christian passed away after a battle with colon cancer on July 22, 2011, and was survived by her two daughters with Tyrone Power.

Visit the
Dane Clark
page.

Visit the
Ken Clark
page.

Visit the
Robert Clarke
page.

Visit the
Steve Cochran
page.

Veteran character actor Ray Collins, born in Sacramento, California, in December 1889, began his acting career as a child on the vaudeville stage. Hollywood had yet to emerge as the capital of filmmaking by the time Collins reached adulthood, so he eventually headed east to New York, where he worked on and off Broadway from the 1920s to the 1940s. Also working as a radio actor, Collins was a part of Orson Welles' Mercury Theater. Fittingly, Welles cast him in
Citizen Kane
, his first feature film role (although he had acted in a number of Warner Bros./Vitaphone shorts produced in New York in the late 1920s and early 1930s). Afterward, Collins left New York for Hollywood, where he found plenty of work in wartime America films, including a surprising number of comedies. But film noir is where Collins fit in best, acting in such films as
Leave Her to Heaven
(1945; with
Cornel Wilde
and Gene Tierney),
A Double Life
(1947; with Ronald Colman and
Shelley Winters
), and
The Racket
(1951; with Robert Mitchum and
Lizabeth Scott
). Collins worked steadily in films until he was cast in the role of Lieutenant Arthur Tragg in the CBS noir series
Perry Mason
(1957-1966; with
Raymond Burr
,
Barbara Hale
, and
William Hopper
). Collins developed emphysema in the early 1960s and was forced to curtail his appearances on the popular television series. He passed away in July 1965 at the age of 75. The photo above is from his last film
I'll Give My Life
(1960).

Visit the
Chuck Connors
page.

Visit the
Mike Connors
page.

Visit the
Robert Conrad
page.
Elisha Cook, Jr. (1903-1995)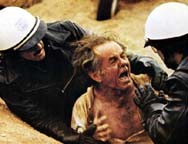 Elisha Cook began his long career while a teenager, when he did a vaudeville act and later on the Broadway stage. He didn't enter films with earnest until the mid 1930s. Although at this time Cook was more than 30 years old, his diminutive stature got him often cast as a student in 1930s films. Cook's big breakthrough role came in
The Maltese Falcon
(1941; with Humphrey Bogart and Mary Astor), a brilliant performance that allowed him to get better roles. But Cook rarely turned down a script, so he often appeared in both A and B films. Some of his more interesting performances can be seen in
The House on Haunted Hill
(1958; with
Vincent Price
and
Carol Ohmart
),
Rosemary's Baby
(1968; with Mia Farrow), and
Blacula
(1972; with William Marshall). Cook chalked up more than 100 films and dozens of TV appearances through the late 1980s. A stroke in 1990 forced him into retirement. He passed away in 1995 at age 92. The left-hand photo is from
Electra Glide in Blue
(1973; with Robert Blake).

Visit the
Glenn Corbett
page.

Visit the
Wendell Corey
page.

Visit the
Ray 'Crash' Corrigan
page.
Visit the
Ricardo Cortez
page.

Visit the
Hazel Court
page.

Visit the
Buster Crabbe
page.

Visit the
James Craig
page.
Visit the
Yvonne Craig
page.
Jeanne Crain (1925-2003)

Beautiful California native Jeanne Crain studied drama from an early age and entered films at age 18. Upon signing with 20th Century Fox, the studio cast Crain in the best films of her career, including
State Fair
(1945; with Dana Andrews),
Leave Her to Heaven
(1945; with
Cornel Wilde
), and
A Letter to Three Wives
(1949; with
Linda Darnell
). In the 1950s, however, Fox cast her in films of lesser quality, so Crain left the studio and eventually landed at Universal-International. Most of Crain's later films were low-budget affairs, such as
Daggers of Blood
(1962; with John Drew Barrymore) and
Hot Rods to Hell
(1967; with
Dana Andrews
). Despite her busy career, Crain somehow managed to raise seven children. She retired from acting in the early 1970s. Sadly, Jeanne Crain passed away in December 2003 at the age of 78.
Richard Crenna (1927-2003)

A Los Angeles native, Richard Crenna starred in numerous B movies and television shows during his long career in Hollywood. His earliest roles came on radio in the 1940s. While a college student, he landed a role on
Eve Arden's
radio comedy
Our Miss Brooks
in 1948, and he stayed with the show when it moved to television in 1952. Some of his early films include
Red Skies of Montana
(1952; with
Jeffrey Hunter
) and
Over-Exposed
(1956; with
Cleo Moore
). Later, Crenna starred in
The Real McCoys
for six seasons, and after the show left the air, he starred in several films such as
Wait Until Dark
(1967) and
Marooned
(1969; once aired on
Mystery Science Theater 3000
as
Space Travelers
). Crenna's career was strong through his final days. He passed away from cancer in January 2003 at the age of 76.
Criswell (1907-1982)

Born Jerome Criswell in 1907, Criswell started his professional career as a journalist and radio personality. He began making outrageous predictions as a gag while on a radio program; soon, however, he became famous for his psychic abilities, appearing on television often from the 1950s through the 1970s. Criswell frequently admitted he had no psychic powers, yet the gag continued. B movie fans will recognize Criswell from
Ed Wood's
films
Plan Nine from Outer Space
(1959; with
Tor Johnson
);
Night of the Ghouls
(1959; with
Tor Johnson
and Kenne Duncan); and
Orgy of the Dead
(1965; with Pat Barrington). Criswell departed in October 1982 at the age of 75.

Visit the
Robert Cummings
page.

Visit the
Peter Cushing
page.

Visit the
Ray Danton
page.

Visit the
Linda Darnell
page.
Jim Davis (1909-1981)

Character actor Jim Davis is known for his many westerns but is best remembered in the role of Jock Ewing on the CBS TV series
Dallas
. Born in Missouri in August 1909, Davis entered films in the early 1940s. Following World War II, Davis found roles in such films as
Gallant Bess
(1947; with
Marshall Thompson
and
Hellfire
(1949; with
Marie Windsor
). He didn't headline a picture until the 1950 low-budget film noir release
Hi-Jacked
. Throughout the 1950s Davis worked steadily in films, but when his career stalled in the 1960s, he found lots of work in television. Some of his later films include
Jesse James Meets Frankenstein's Daughter
(1966; with
Cal Bolder
) and
Dracula Vs. Frankenstein
(1971; with
Anthony Eisley
and
Lon Chaney Jr.
). Following the death of his daughter in 1970, he threw himself into his career, acting in a number of films in the 1970s and landing a plum role on
Dallas
. Davis died of cancer in April 1981 at the age of 71.
Visit the
Joan Davis
page.

Visit the
Laraine Day
page.

Visit the
Yvonne De Carlo
page.
Myrna Dell (1924-2011)

Los Angeles-born Myrna Dell began her career as a showgirl in New York before trying her luck in films. After a few film appearances, she secured a contract with RKO in 1944. Initially, the studio cast her in comedy short subjects, working her way up to femme fatale in film noir thrillers such as
Step by Step
(1946; with Lawrence Tierney and Anne Jeffreys) and
The Falcon's Adventure
(1946; with Tom Conway and Steve Brodie). After ending her contract with RKO, Dell freelanced extensively at other studios and did quite a bit of work on television into the early 1960s. After her marriage to actor Herbert Patterson and the birth of her daughter, Dell retired from the screen. She passed away on February 11, 2011, at the age of 86. She was survived by her daughter.

Visit the
Richard Denning
page.

Visit the
John Derek
page.

Visit the
Bradford Dillman
page.
Divine (1945-1988)

Born Harris Glenn Milstead, Divine starred in director John Waters' underground made-in-Baltimore flicks such as
Multiple Maniacs
(1970),
Pink Flamingos
(1972; with Edith Massey), and
Polyester
(1981; with
Tab Hunter
). In the 1980s, Divine proved himself an accomplished and versatile actor in
Lust in the Dust
(1985; with
Tab Hunter
) and
Trouble in Mind
(1985; with Keith Carradine). Just as he was crossing over into mainstream film and possibly stardom, he passed away in early 1988 at the age of 42. The above photo is from Divine's hilarious 1985 comedy
Lust in the Dust
.

Visit the
Tamara Dobson
page.

Visit the
Faith Domergue
page.

Visit the
Brian Donlevy
page.
Jeff Donnell (1921-1988)
Born Jean Donnell in Maine in 1921, pretty Jeff Donnell was put under contract by Columbia Pictures in 1941, where she acted in a string of B programmers. She was a well-rounded actresses, excelling in comedies, dramas, and westerns, although film noir provided her best roles. In 1954, Donnell left Columbia Pictures and took on the role of Alice on
The George Gobel Show
. But Donnell left the series in 1958, when she married her third husband. The marriage didn't last, and by 1961 Donnell began acting in films again, although on an infrequent basis. Her final role was a long stint on the ABC soap
General Hospital
. The talented actress passed away after a heart attack in 1988 at the age of 66. She was survived by two children from her first marriage. Married four times, her most famous husband was actor
Aldo Ray
, whom she married in 1954 and divorced in 1956.
Visit the
Diana Dors
page.
Visit the
Troy Donahue
page.

Visit the
Charles Drake
page.
Visit the
Joanne Dru
page.
Peter Duel (1940-1971)

Peter Duel made a few low-budget films in the mid 1960s but is better known for his prolific work in television. Duel starred in the series
Gidget
(1965-1966) and
Love on a Rooftop
(1966-1967). His career seemed assured with his third series,
Alias Smith and Jones
(1971-73), along with co-star Ben Murphy. Inexplicably, Duel took his own life on New Year's Eve 1971 at the age of 31.

Visit the
Howard Duff
page.
Dan Duryea (1907-1968)

Stage actor Dan Duryea made the transition to films in the 1940s. He excelled at portraying heavies and thugs in film noir and westerns, but occasionally picked up good-guy roles, especially toward the end of his career. His best films include
Scarlet Street
(1945; with
Joan Bennett
) and
Larceny
(1947; with
John Payne
. Duryea kept working through the late 1960s until his health began to fail; he passed away in June 1968 at the age of 61.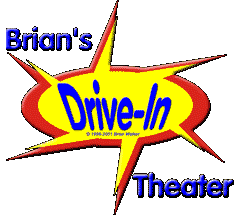 Click on the logo to go back to Brian's Drive-In Theater
This page premiered May 25, 1999.
Copyright and Disclaimer Information