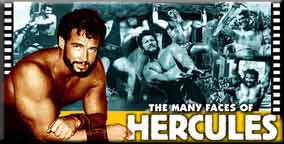 The
Hercules
section contains pages for Steve Reeves, Gordon Scott, Reg Park, Gordon Mitchell, Mark Forest, Ed Fury, Kirk Morris, Reg Lewis, Samson Burke, Mickey Hargitay, Peter Lupus, Richard Harrison, Dave Draper, Lou Ferrigno, Arnold Schwarzenegger, Joe Robinson, and more.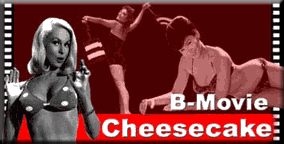 B-movie Cheesecake
features pages for Pam Grier, Julie Adams, Anne Francis, Mamie Van Doren, Joi Lansing, Barbara Nichols, Jayne Mansfield, Yvette Vickers, Julie London, Maria Montez, Yvonne De Carlo, Jane Russell, Faith Domergue, Fay Spain, Debra Paget, Virginia Mayo, and more.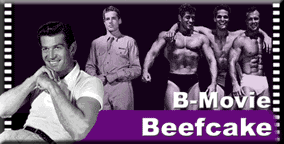 B-movie Beefcake
, featuring pages for George Maharis, Alex Cord, Jeffrey Hunter, Guy Madison, Nick Adams, Tab Hunter, Jorge Rivero, Cornel Wilde, Peter Brown, Stephen Boyd, Jeff Chandler, Robert Conrad, Eric Fleming, John Gavin, Sterling Hayden, John Phillip Law, Kerwin Mathews, and 80 more actors!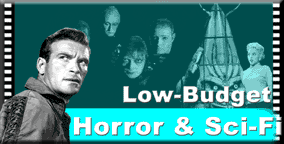 Low-Budget Horror and Sci-Fi
features pages for actors Boris Karloff, Fay Wray, Bela Lugosi, John Agar, Evelyn Ankers, Mara Corday, Susan Cabot, Beverly Garland, Allison Hayes, and forty more actors. And don't miss the directors section, with Ed Wood, Del Tenney, Herschell Gordon Lewis, and more.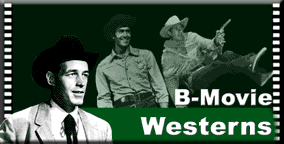 B-movie Westerns
contains pages for Chuck Connors, Philip Carey, Doug McClure, Clint Walker, Ty Hardin, John Payne, Rory Calhoun, George Montgomery, Audie Murphy, George O'Brien, Johnny Mack Brown, Joel McCrea, Gilbert Roland, John Russell, Lee Van Cleef, Allan 'Rocky' Lane, and more.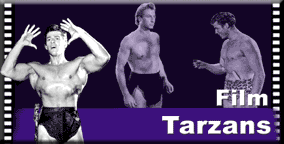 The
Tarzan
section contains many pages for Tarzan actors Lex Barker, Herman Brix, Buster Crabbe, Ron Ely, Mike Henry, Jock Mahoney, Denny Miller, Glenn Morris, Miles O'Keeffe, Gordon Scott, Johnny Sheffield, and Johnny Weissmuller. And don't miss the
Now Showing
and
Photos Available
sections!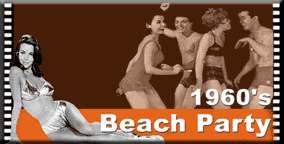 The
Beach Party Movies
section features pages for Frankie Avalon, Yvonne Craig, Annette Funicello, Chris Noel, Aron Kincaid, Tommy Kirk, Deborah Walley, John Ashley, Donna Loren, Fabian Forte, Jody McCrea, Joy Harmon, Quinn O'Hara, and pages devoted such films as
Village of the Giants
and
It's a Bikini World
.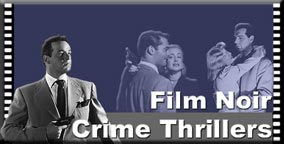 The
Film Noir
section features Joan Bennett, Scott Brady, Raymond Burr, Richard Egan, Gloria Grahame, Veronica Lake, Gerald Mohr, Jan Sterling, Tom Neal, Lizabeth Scott, Steve Cochran, John Russell, Hugh Beaumont, Keith Andes, Gloria Grahame, Terry Moore, Jan Sterling, and more!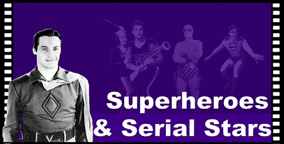 Superheroes and Serial Stars
contains lots of photos and biographical information for actors Adam West, Van Williams, Kirk Alyn, Reb Brown, Buster Crabbe, George Reeves, Kane Richmond, Tom Tyler, Ray 'Crash' Corrigan, Kirk Alyn, Ralph Byrd, and more. And be sure not to miss the
Now Showing
section!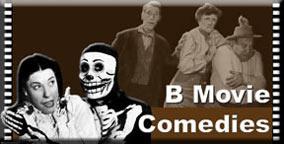 B Movie Comedies
features biographies and photos of Shirley Eaton, Elke Sommer, Bud Abbott, Lou Costello, Eve Arden, Nat Pendleton, Judy Canova, Joan Davis, Ann Sheridan, Pamela Tiffin, Gale Storm, Lupe Velez, Marjorie Main, Arthur Lake, Richard Long, Penny Singleton, and more!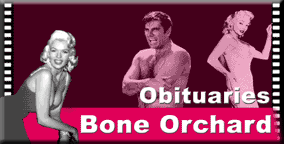 The Bone Orchard: Deceased B-Movie Stars
contains biographies and photos of Tura Satana, Lucille Ball, Corinne Calvet, Regina Carrol, Roy Rogers, Dale Evans, David Carradine, Glenn Corbett, Jeanne Crain, Divine, Jonathan Frid, Brian Kelly, Gardner McKay, and more.